Six Simple Ways To Cure your Bathroom Woes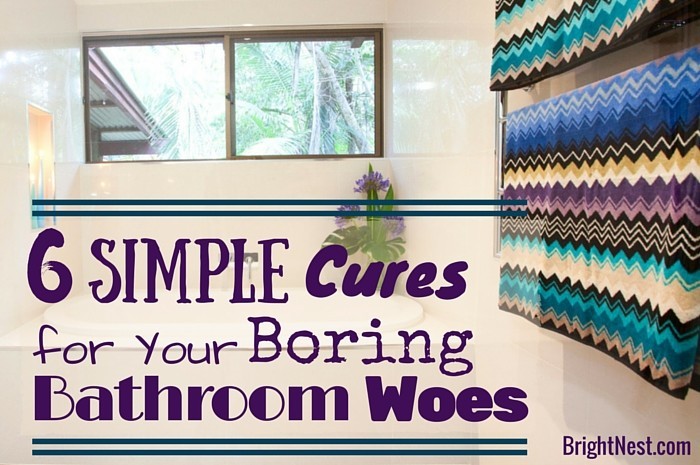 Bathroom decor doesn't have to be synonymous with boring! The key to fancying up some tired decor in your bathroom is to first take stock of what you have, then go from there.
This is especially true for small bathrooms, since you have about one-third of the space of any other room in your home. Adding furniture is not really an option and small trinkets can easily make the space look cluttered.
Here are six simple cures for drab bathroom decor.
1. Rethink Your Towel-Hanging Tactics
If you have a small bathroom, get funky towel hooks – you won't ever need to fold your bath towels again (win!) and they're pretty easy to install. With a power drill and screws you can add some towel hooks in about 5 minutes. Have a bit more space? Try hanging your towels on an old ladder. You'll still have to fold them, but at least it will look super stylish!
2. Glam Up Your Hardware
As soon as you make this subtle change, you'll start feeling better about this space. First, take a peek at any cabinets or drawers you have. Those doorknobs or handles can be replaced!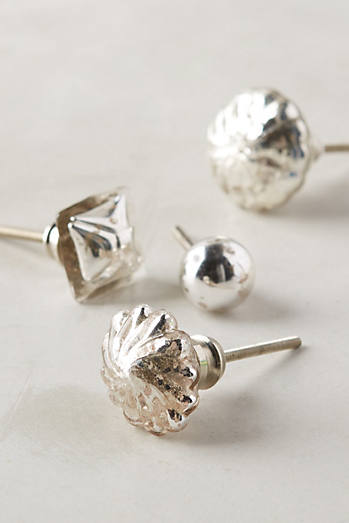 Anthropologie has a fun collection of cabinet knobs for just about every style. After that, take a look at the doorknob and radiator vents. These little details, once replaced, can make a big difference on the atmosphere of your bathroom. Once you've got the hardware you need this might take you fifteen minutes tops!
3. Beautify Your Bathtub
If you have a standalone bathtub, take advantage of that space! Add an over-the-tub rack to class up your bathroom and add storage at the same time.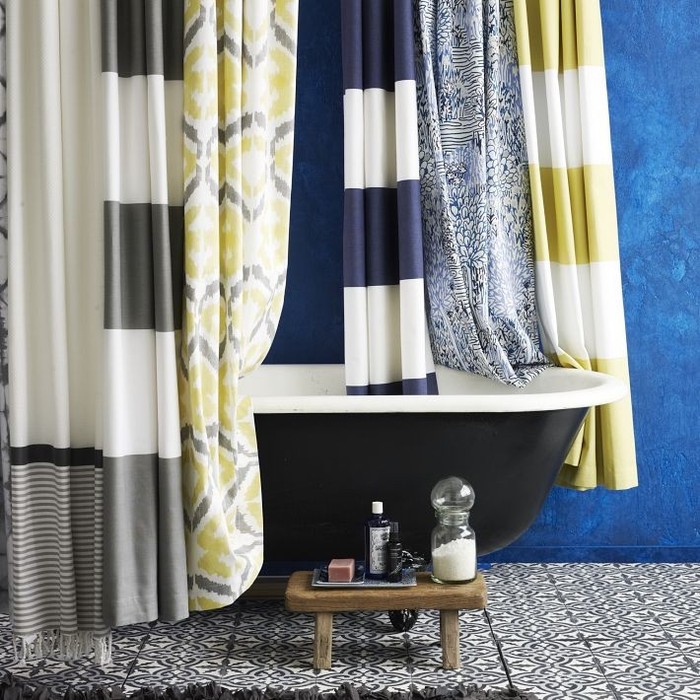 4. Replace Your Shower Curtain
This is a no-brainer. If you want to refresh your space, start with one of the biggest canvases in the room: your shower curtain. Plus, there are tons of options. We like Joss & Main for more classic feel, and if you want to go a bit more funky, check out Fab.com.
Pro Tip: If you're working with a cramped space, choose something with vertical stripes. This can make the ceiling appear taller, give the illusion of more space.
5. Paint Your Curtain Rod
Add a pop of color by painting your curtain rod! We recommend using mildew-resistant paint because of steamy-shower moisture. A fresh coat will also make your shower curtain hooks and curtain really stand out. Test the paint on a small area before fully painting the curtain rod.
6. Hang Plants
Add some greenery to your bathroom by hanging some plants from the ceiling. We recommend eucalyptus – humidity from the steamy water will cause the plant to release essential oils. Hello, stress-free shower! Pick up a plant hanger and install hanging hooks near your bathroom window.
David Kaufmann – Realtor ® / GRI - Market got you lost? Take the next EXiT!
Specializing in commercial, high-end waterfront, as well as more modest, residential dwellings in Annapolis, Stevensville, Queenstown and the surrounding areas.
www.DavidKaufmannEXITRealty.com - 443-223-3026 cell, 410-304-2115 office,
410-304-2031 fax; DavidKaufmannEXITRealty@gmail.com email
Categories: Real Estate Solutions, Community Information, Miscellaneous