Annette Anthony, Real Estate Technology Expert, joins the Mid-Atlantic region on Wednesday, January 11th for a 2 session seminar geared toward business plans, leveraging contacts and how to use technology to dominate your market. Each session has been designed to speak specifically to Brokers and Agents respectively.
Show up to also find out about the latest in virtual reality technology in real estate. Great photos from your laptop or tablet are great, but is it possible to have a home tour from your office that makes the buyer feel like they are actually in the home? Join us Wednesday to find out…
Being a real estate agent requires the ability to adapt to many situations. Not only do you list and sell homes, but you also become, at times, a marriage counselor, a gardener, a merry maid, etc. Let me explain…
Marriage Counselor: Taking a listing involving a divorced couple requires delicate handling. There are always 3 sides to a story…his, hers and the truth. No matter how hard it is to stay neutral with each member of the couple, keep reminding yourself…whatever it takes to get this deal through, I will do.
Gardner: For those of you who have vacant home listings, this is the time of year to take charge of the upkeep of the yard. First, contact the sellers and get their permission for you to hire a lawn service to take care of the yard for the season. Remember the Golden Rule: Curb Appeal. First impressions are lasting impressions. If a home isn't taken care of on the outside, buyers are wary that the inside wasn't taken care of either. Remember to get a signed contract between the lawn service and the sellers or you'll be the one responsible for payment.
Merry Maid: Have you ever scheduled to hold an Open House and walk into the home and think, What Were They Thinking?!! There's dirty dishes in the sink, clothes on the floor and clutter everywhere (which the owners promised to clean up!) Plan to arrive an hour earlier to avoid any problems that can be taken care of ahead of time.
It's funny when a bunch of Realtors stand around a cocktail table and share some of their horror stories, funny stories and some of their just down-right unbelievable stories. One thing comes to mind. Being in the real estate industry, one has the ability to create unlimited income and great experiences. It all depends on you being willing to do…Whatever It Takes!!
Written by Carol McDaniel, Regional Owner
Six Simple Ways To Cure your Bathroom Woes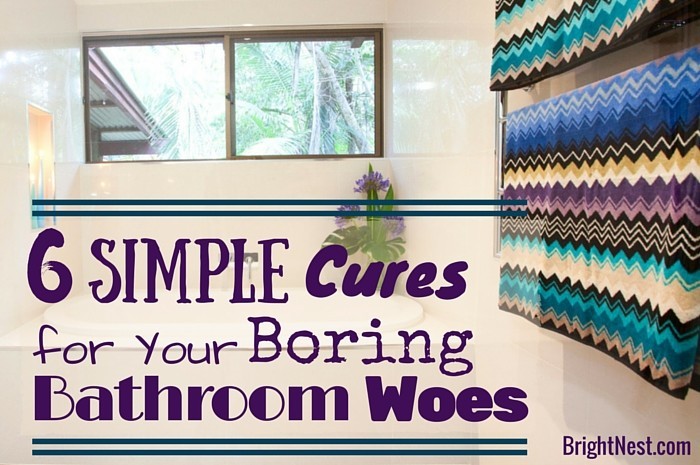 Bathroom decor doesn't have to be synonymous with boring! The key to fancying up some tired decor in your bathroom is to first take stock of what you have, then go from there.
This is especially true for small bathrooms, since you have about one-third of the space of any other room in your home. Adding furniture is not really an option and small trinkets can easily make the space look cluttered.
Here are six simple cures for drab bathroom decor.
1. Rethink Your Towel-Hanging Tactics
If you have a small bathroom, get funky towel hooks – you won't ever need to fold your bath towels again (win!) and they're pretty easy to install. With a power drill and screws you can add some towel hooks in about 5 minutes. Have a bit more space? Try hanging your towels on an old ladder. You'll still have to fold them, but at least it will look super stylish!
2. Glam Up Your Hardware
As soon as you make this subtle change, you'll start feeling better about this space. First, take a peek at any cabinets or drawers you have. Those doorknobs or handles can be replaced!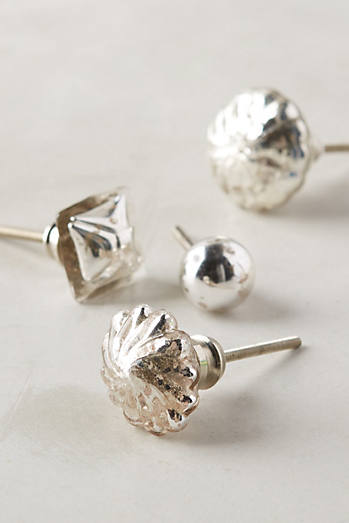 Anthropologie has a fun collection of cabinet knobs for just about every style. After that, take a look at the doorknob and radiator vents. These little details, once replaced, can make a big difference on the atmosphere of your bathroom. Once you've got the hardware you need this might take you fifteen minutes tops!
3. Beautify Your Bathtub
If you have a standalone bathtub, take advantage of that space! Add an over-the-tub rack to class up your bathroom and add storage at the same time.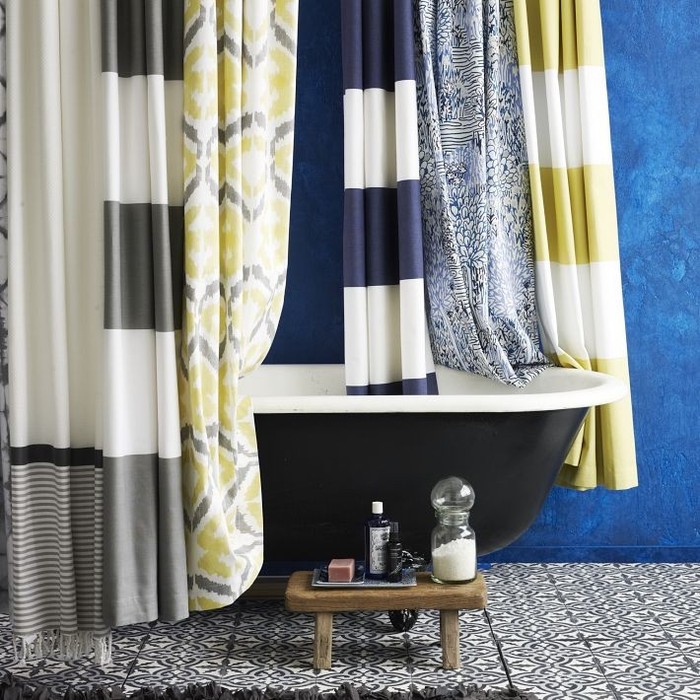 4. Replace Your Shower Curtain
This is a no-brainer. If you want to refresh your space, start with one of the biggest canvases in the room: your shower curtain. Plus, there are tons of options. We like Joss & Main for more classic feel, and if you want to go a bit more funky, check out Fab.com.
Pro Tip: If you're working with a cramped space, choose something with vertical stripes. This can make the ceiling appear taller, give the illusion of more space.
5. Paint Your Curtain Rod
Add a pop of color by painting your curtain rod! We recommend using mildew-resistant paint because of steamy-shower moisture. A fresh coat will also make your shower curtain hooks and curtain really stand out. Test the paint on a small area before fully painting the curtain rod.
6. Hang Plants
Add some greenery to your bathroom by hanging some plants from the ceiling. We recommend eucalyptus – humidity from the steamy water will cause the plant to release essential oils. Hello, stress-free shower! Pick up a plant hanger and install hanging hooks near your bathroom window.
David Kaufmann – Realtor ® / GRI - Market got you lost? Take the next EXiT!
Specializing in commercial, high-end waterfront, as well as more modest, residential dwellings in Annapolis, Stevensville, Queenstown and the surrounding areas.
www.DavidKaufmannEXITRealty.com - 443-223-3026 cell, 410-304-2115 office,
410-304-2031 fax; DavidKaufmannEXITRealty@gmail.com email
Wanting to find Austin real estate that's energy saving but doesn't make your wallet want to run away? Find what you are looking for right now! There are many Houses in Austin, but we offer only the best, including Austin Houses that offer energy saving features such as Compact Florescent Lighting and Energy saving appliances. Who says energy efficient Homes in Austin have to look like the 60's? We have one story Austin Homes with amenities such as wooden flooring, and kitchens lined with maple cabinets that are topped by beautiful granite. Looking to start a family in efficient energy saving Austin Houses? We offer bedroom Austin Homes with 2 bathrooms that allow savings on energy. Start saving the environment by investing in Austin real estate today!
NOTE: As a thank you for reading this blog post, we are providing you with a free excerpt from Dan Castro's Book Critical Choices that Change Lives
Once, two experienced kayakers, in separate kayaks, traveled down the Arkansas River through the world famous Royal Gorge in Colorado. The river was at an all-time high because of the heavy snows that winter. The kayakers should not have been on the river that day. As they progressed, they both had to navigate around the same boulders, the same rapids, and the same waterfalls. But suddenly, one of them hit a boulder sideways and hit his head against a rock and died. The other kayaker avoided the boulder and safely made his way down the river. What was the difference between the kayaker who lived and the one who died? Was it the river that determined their fates? Or was it each kayaker's distinct reaction to what the river threw at him that determined his fate?
Like a rapidly rushing river, life seems to keep throwing things at us in rapid succession, giving us little time to think. We suddenly encounter things we weren't expecting, things we sometimes think we can't handle. But, there is nothing in life we can't handle. All we need to do is believe and make a decision. It's all up to you. In life there are really only two choices—win or die. I once saw a sign spray-painted on the side of a rusty, beat-up pickup truck. It said, "If you aren't living on the edge, you're taking up space." What a great motto!
Consider the life of Joni Eareckson Tada, who became a quadriplegic as a result of a diving accident. She went from being a young, beautiful, independent, athletic woman to being totally dependent on others for even her simplest needs. When she has a bad cold, she can't even blow her nose because she can't move her arms. At first she was bitter. She was mad at the world and bitter at God. However, she has turned this tragedy into a blessing for herself and countless numbers of people. Joni made a decision. She formed an organization called Joni and Friends (JAF), whose sole purpose is to help the disabled all over the world. She draws and paints beautiful pictures with the only resources she has left, her mouth, her eyes, her creative mind, and all of her heart. She has written over twenty books and speaks to thousands of people, helping, inspiring, and motivating them to transform their tragedy into triumph. Her life is a testimony to the fact that no matter how horrible the tragedy you may have experienced, you can rise above it.
Joni's story teaches us that whether you're a winner or a loser is a mental attitude. It's an intentional decision you alone make. The choice is yours. Joni's response to what happened to her has breathed energy back into the souls of those who thought their lives were over. Joni made a decision that her life wasn't over. It had only just begun.
Look at Candy Lightner, whose daughter was killed by a drunk driver. She could have spent the rest of her life sulking. But, instead of being mad at the world, she made a decision. She decided to form an organization called Mothers Against Drunk Driving (MADD) to turn the tide of the very forces that took her daughter so that others' sons and daughters could be spared. This is a classic example of turning a negative event into a positive force, and improving your own life and the lives of others as a result. This can only happen when we make an internal decision about how to react to what has happened to us. Neither our circumstances nor our feelings about those circumstances should dictate the final result.
Consider Christopher Reeve, who after his tragic horse-riding accident has decided to become a spokesman for the disabled and to help raise funds for research into the reversal of spinal paralysis. Look at Magic Johnson, who decided to turn his HIV diagnosis into an opportunity to teach young people and adults about the dangers of AIDS and the importance of safe sex. Look at the legendary cyclist Lance Armstrong, who decided to turn his cancer diagnosis into a fund-raising platform for cancer research. All of these people could have chosen to wallow in self-pity. They could have chosen to believe their lives were over. But they made a different decision. They decided they could control the impact their personal tragedy would have on their own lives and on the lives of those around them. They decided they had the power to write the final chapter.
Ludwig van Beethoven decided to write his Ninth Symphony even though he was almost entirely deaf. George Frideric Handel decided to write the Hallelujah Chorus while paralyzed from a stroke and hiding from his creditors. What financial challenges are you facing right now? Have you, like Beethoven and Handel, considered what talents and resources you have left and what you can do with them? Have you learned to open your eyes and see as they saw?
Something inside each of these people was so powerful and needed to flow out of them so badly that no physical impairment or personal tragedy could stand in the way. These people believed they had gifts that the world needed. But even the choice to believe was a decision. It was the decision behind the decision. Once this happened, it was as though they had grabbed a lightning rod connected directly to God himself. They were able to see and hear opportunities that no one else saw or heard.
By choosing to believe they could make a difference, they became energized by a power beyond their own and tapped into a source of power higher than themselves, a source bigger than any external tragedy that could afflict their lives. They drank from a well that would fill them up and flow through to others. You see, we often ask life what it has to offer us, when it's really life that asks what we have to offer the world. What difficulties are knocking at your door and asking what you have to offer the world right now?
Are you moving? Looking for new homes in Austin? Well look no further! We have all the resources you need! Our trained agents can find you anything, including gorgeous 1 story Austin homes on over half an acre! Have you always dreamed of owning Austin real estate with a hot tub? Done! Do you want tons of storage? Just ask! We can find you houses in Austin with or without fireplaces, Austin houses with huge closets, anything you could ask for! We also have real estate in Austin that's great for families with kids! Quiet low traffic neighborhoods and schools within walking distance! For people with an active lifestyle, we can also find you houses in Austin near greenbelts with neighborhood pools & tennis courts, just a short walk down the sidewalk! Don't wait! Find a great selection of Austin homes today!
NOTE: As a thank you for reading this blog post, we are providing you with a free excerpt from Dan Castro's book CRITICAL CHOICES THAT CHANGE LIVES.
Once there was a wise old prophet known far and wide for his ability to solve any puzzle. A brazen youth came up with a strategy to stump the prophet. He decided to bring the man a bird held behind his back. He would ask the prophet whether the bird was dead or alive. Then depending on the prophet's answer, he would either squeeze the bird's neck to kill it or let it live. One day, the young man approached the prophet and with his hands behind his back said, "Old man, tell me whether the bird I hold in my hand is alive or dead." The prophet paused for a long moment and stared into the young man's eyes. The young man smiled, thinking he had gotten the best of the old man. After a long silence, the prophet declared, "It is as you would have it."
So it is in life. Many times, we are faced with difficult choices that seem to have no right answer—crises that demand an answer now, with little time to study the options. But the outcome always depends not on the circumstances but on our reaction to the circumstances. In the words of the prophet, "It is as we would have it." Few things in life are truly beyond our control. No matter what comes our way, we can always influence the outcome, even if ever so slightly. Even during those times when circumstances and events take place in our lives that seem to turn our whole world upside down, the final impact it has on our lives is still largely up to us. The decisions we make determine the final impact.
By now, the story of Nazi death camp survivor Viktor Frankl is well known. Many behavioral scientists, psychiatrists, motivational speakers and preachers have analyzed how Frankl was able to survive and prosper in the midst of great sorrow and extreme difficulty. I will only briefly discuss the story here for those who may not have heard it.
While Viktor Frankl was in a Nazi death camp, a Nazi soldier noticed that he was wearing a wedding band. He forced Frankl to stand naked in the cold and stretch out his arms. Then the soldier pulled the ring off of Frankl's weak, frail finger and threw it in the mud and stomped on it. It was the last remaining possession Frankl owned.
But as he stood there naked, Frankl realized he still had one thing left that the Nazis could not take from him: the power to choose his outlook on life; the power to determine how he would react to his captors; the power to keep believing and to keep going. The undying belief that he would one day be free was the source of energy that kept him alive until the Allied Forces defeated Germany and he was ultimately freed. There was no reason for Frankl to believe except his choice to believe. This was more important to his survival than food and warmth.
We cannot control what happens to us, but we can control how we react to it. For example, if your car starts to skid out of control on a wet road, experts tell us you have two options. You could either slam on the brakes, which would exaggerate the skid and cause you to lose control completely, or you could slowly release your foot from the gas pedal and turn in the direction of the skid, which would bring you out of the skid. You have a split second to make a decision. Which action you take could determine whether you live or die. It is your decision, therefore, not the wet road, that determines the final outcome. If you could practice the proper maneuver over and over in a controlled setting, it could save your life one day. But, unfortunately, most of the crises we face in life don't come with a dress rehearsal. There are, however, some crises that are predictable and for which you can and should prepare.
Commercial airplane pilots, as part of their training, are exposed to predictable emergencies in flight simulators so that they can learn how to react in a real crisis. This training teaches them which decisions to make quickly when time is critical. Usually the answers to every flying emergency are readily available, but untrained pilots tend to panic and not think of the options they have in time to prevent tragedy. Private pilots are not required to go through this simulated decision-making process. As a result, private pilots have accidents 200 times more frequently than do commercial airline pilots. You see, it's not whether your plane stalls that determines whether you live or die; it's how you react when your plane stalls that determines your fate. How a pilot reacts is dependent on the split-second decisions he or she makes.
In the U.S. Army, the Rangers, an elite fighting force, are required as part of their training to go through rigorous survival training in which they must eat bugs and leaves and suffer extreme physical conditions. This training teaches them that they can do anything they need to do in order to live. This training builds confidence, layer by layer, and leaves well-worn paths and patterns in their brains that they can follow instinctively if they ever encounter a similar situation in real life. They come to believe that even when they are in grave danger, there might be alternatives to death, if they choose to exercise them. This belief allows them to see potential sources of food, shelter and weapons that others might not see.
Remember, if you are buying or selling real estate in Austin, contact Rose Castro at Austin Options Realty.
The Relocation Engineer published this in depth report and it is a must read for Franklin TN home owners considering to sell.  Don't miss out on reading and discovering what many agents don't want you to know.
ACT NOW TO GET THIS REPORT DELIVERED TO YOU AND GAIN INSIGHT INTO SELLING YOUR FRANKLIN HOME.
Get this report and find out how to interview and select a qualified real estate agetn to effectively market your home for sale. 
This proprietary report, generated by The Relocation Engineer, is the intellectual property of The Relocation Engineer
Real Estate Blog Rules
This is the second in a multi part series on real estate blogging. Go here to see the introduction: Intro to real estate blogging. Before you start blogging, take some serious time to determine who your target audience is going to be. Which niche do you want to receive leads from.
First, what is your goal for blogging?
My goal was to have my website appear on page one of Google. If I get to page one, then I will receive real estate leads, based on how my blog interacts with my website. I hope this is your goal as well. If it is not, maybe you just need a newsletter to go out to your database.
Second, is the market I am considering always going to be there?
When I decided on seller financing, I had investors in my pocket who wanted to hold the notes, so it was an easy decision. When the laws changed, many of those investors went away, and making a sale became more difficult. So my advice is to choose to go after something tangible, that will always be available, and in demand. Just a few examples may be an area of town, subdivision, gated community, condo development, water front properties, golf course homes, Victorian style, acreage, etc, etc… Stay away from basing your blog on things that lawmakers can change, such as owner financing or temporary rebates. If you want to blog about those items, and it is a good idea, go ahead, but don't make it the main focus of your blog.
Third, how big is the market?
This is important. If you love old rustic homes that have no indoor plumbing but use an outhouse, that's great. But is there a market for that? Do people want to buy a home with no indoor plumbing? Well maybe if you live in Amish country in Pennsylvania, but then you would have to do flyers. The Amish are not going to be on the internet. J If the neighborhood or area you choose only has 25 homes, well there may not be enough market to make the time commitment worth it. On the other hand the market can be too big. If you think you're going to blog about homes in New York City, you will never get to page 1 of Google, maybe even not page 100. Trulia, Zillow, Realtor.com and many other big name big money companies have the money and resources to target this big name. Go do a Google search and you will see. So go for a market that you know, that the big guys don't have a monopoly on. It will take some research, but you will be glad you did.
Fourth, is the physical location of the Niche manageable and worth your time?
If you choose an area to blog about, how close is it to you? If it's 60 miles away, will it be convenient to get to and show homes? Maybe it has great numbers, high sale price, low days on market, new infrastructure and a host of other things. But is it worth a 4 hour commute to show a home? So make sure the area or niche you choose will be manageable over the long run. Missing your kids games, or dinner with your spouse because your niche is all over the county, or the area is 2 hours away, does not make for a good home life. I chose the neighborhood I live in, and man, that was a blessing.
And fifth, do people actually move in this area?
According to NAR people move on average every 7 years. This number does not fluctuate much. So make sure the area or niche you are targeting hits at least this number, or of not, the sales price is worth it. We have a neighborhood near our office that we would use for training. We would door knock there to get agents used to talking to people and handle some rejection. We found out quickly that no one was moving. When we went back to the office and did our research, we found that there were only 8 sales a year in a neighborhood with about 150 homes. People did not move in this neighborhood. Needless to say, we did not work that neighborhood anymore. Make sure and do the research on the areas you choose. Doing a real estate blog takes time and commitment. Make sure it's worth your time. And when the leads start coming in, make sure you are keeping track of them. Use TrackTheLead.com or some other CRM system. If not, your just wasting your time.
Track the Lead is a real estate CRM system along the lines of top producer, realty juggler, salesforce, all clients, market leader, zoho and many others. It may be true that many of these have more functionality, none of them are as simple. Go To Trackthelead.com/trial and give them a try.
"We're excited to welcome Debi-Jo to EXIT Realty," says Debbie Houck, Broker/Owner of EXIT Gold Realty. "EXIT is growing and attracting quality business people like Debi-Jo each and every day."
Debi-Jo is an ambitious, goal oriented professional.  She is always willing to go the extra mile to satisfy her clients and customers' needs.  Her goal is…"To make your realty a reality". She is an organized, multi-tasking, go-getter.  
Debi's area of expertise is Grasonville, Kent Island in Queen Anne's County, and in Anne Arundel County, Pasadena and Glen Burnie Homes, as well as the surrounding areas.
Debi began her sales career with BMW, where she worked in the service department of Mini Cooper and then branched to BMW and began selling vehicles. She later received an offer to work for the government in telecommunications security department, but decided to get back into sales, during the government sequester. Real Estate was the obvious choice to her. "People love cars, but they will always need a place to live." says Henne. 
Debi-Jo currently resides in Grasonville, MD with her fiancé and their daughter. She enjoys painting, decorating and landscaping homes and businesses.  She and her fiancé also own a landscape company, Shore Line Landscaping in Grasonville.
You can reach Debi on her cell phone at 443-944-4944, or via email at . Her office base is at 115 Pullmans Crossing Road, Ste 104, Grasonville, MD 21638.
EXIT Realty is a proven real estate business model that supplies single-level residual income - for agents, security, stability and direction; for agents' families, security in the form of beneficiary and retirement residuals.  EXIT's MIND-SET Training Systems offer the industry's best hands-on, interactive sales training.  State-of-the-art technology, including the Digital Marketing Strategy, gives EXIT Realty agents the edge in a competitive marketplace. A portion of every transaction fee collected by EXIT International is applied to its charitable fund. To-date, over $2 Million has been pledged to Habitat for Humanity. 
EXIT Gold Realty is located at 115 Pullmans Crossing Rd, Ste 104, Grasonville, MD 21638.  For more information, please call 410-643-4111.
Have you found yourself in a difficult position?  You have lost your job, or overpaid for your home, or ended up with mounting medical bills and can no longer afford the mortgage on your Lake Murray, SC home.  If you are facing foreclosure, take a look at these helpful hints for avoiding being scammed by a bogus company.  Nothing makes a bad situation worse than finding out that the company who claimed they wanted to help you has now put you in a dire financial state.  Let us help you arm yourself against the scammers and make the best decision in a tough situation. Call us today if we can answer any questions for you, and make sure you enlist the proper people to help you as you make your way through the foreclosure process. 

Beware Foreclosure Scams
 
The worst has happened: you've gotten a foreclosure notice from your lender. Maybe you bit off more than you could chew when you bought the house. Maybe unexpected catastrophic medical bills ate up your savings and credit. Maybe you lost your job. Whatever the case, you're now facing foreclosure.

You're desperate. You don't know where to turn. You don't know what to do. But you see a flyer about a company that claims to be able to stop the foreclosure. Or you receive an email from a firm that "specializes" in helping foreclosure victims. Or a friend of a friend recommends you get in touch with this organization that can magically get you out of trouble.
Do you see the red flags? They're everywhere.

 
Like many scams out there, foreclosure scams rely on the desperation and hopelessness of their prey. If you're facing foreclosure, here are signs to be wary of.
Avoid organizations that:
 
Contact you instead of you contacting them. You should immediately be suspicious, because scammers research public records to find delinquent mortgage holders. If someone calls you offering to help stave off foreclosure, hang up. Don't listen to their spiel, because they know how to play upon your desperation and fear. They know what you want to hear.
Advises you against getting in touch with your lender or an attorney, telling you that these entities don't have your best interests at heart. They'll tell you that getting in touch with your lender will just make the situation worse. They'll say that they have a special relationship with your lender and that they'll act as your advocate, taking care of all the details. Again, hang up.
Plays upon your ethnicity, religious affiliation or age, saying they "specialize" in that area. They build trust through what's known as "affinity marketing." You're supposed to trust them because they're "just like you." They may even try to make you feel guilty if you resist their advances.
Requires that you sign a "Quit Claim Deed" or other document that transfers the ownership of your home to them.
Has numerous complaints against them with the Better Business Bureau or Internet watchdog sites.
Requires an up-front payment without any contract or guarantee of success in halting foreclosure.

Doesn't put their promises in writing.
 
Here are some clever scams that people fall for every day.
These organizations may:
 
Require you to pay an up front fee and that you sign your house over to a third party. They tell you that the foreclosure will go against the third party instead of you, so you'll be free to buy another house with no ding on your credit. The upshot? Now the company owns your house, will bring the payments current, and there will be a foreclosure against you, not them. Because a foreclosure is recorded against the name on the lender's promissory note—not the title holder! So now they have your house and a good chunk of your change. And you have nothing.

Offers to buy the property with the intention of renting-to-own it back to you. Then the terms they come up with are impossible to meet and you lose possession of your house.

 Charge huge fees to file paperwork and make phone calls that you can do yourself. You'll lose the house anyway, be out a big chunk of change and have no recourse because they did what they said they'd do—file paperwork and make phone calls. They never said they'd stop the foreclosure.

 Give you documents to sign to "bring the mortgage current"—but what you've actually done is sign the house over to them. This is a particular favorite for those scammers who target the elderly.
 
Bottom line: CONTACT YOUR LENDER. They want to help you. They don't want you to lose your house, no matter what these scammers tell you.
Like what you read?  Here are some of the latest blog posts from within our network:
To begin the week, we are providing you with a closer look at the current luxury homes for sale in Irmo, SC.  With its beautiful outdoor spaces and Lake Murray access, Irmo offers a laid-back lifestyle and is conveniently located near Columbia. ...
Read more
Today's blog showcases the recent homes for sale in The Avenues of West Columbia, SC.  Just minutes from downtown Columbia, The Avenues offers affordable homes with varying styles including bungalow, ranch, and cozy cottage.  Many of these h...
Read more
Let us give you a tour of the newest Chapin, SC startup homes for sale.  This little town of 1,500 residents is known as "The Capital of Lake Murray" and offers a heap of charm and a convenient location that is just a short drive to Columbi...
Read more
Friday has arrived and our blog showcases the current residential lots and land for sale in Lexington, SC.  If you are planning to build your dream home, consider making Lexington your home.  Our beautiful city is close to Lake Murray, for those who enjoy spending time with nature.  Plus, Columbia is just a short drive away and offers plenty of dining and entertainment options.  Read More...
Join us on an exclusive tour of the newest million dollar homes for sale in Columbia, SC.  Life in Columbia is sure to please the whole family, with lots of activities to offer including sporting events, museums, ballet, and even a zoo.  If you are looking for a home that is the epitome of luxury, the homes listed below are sure to catch your eye. Read More...
Other Sites Posted:  Our Site  CrackerJackAgent  Trulia  AGreaterTown  RealTown  ActiveRain  WithExit
Lake Murray SC Real Estate - EXIT Real Estate Consultants in Lake Murray SC
Lake Murray is almost entirely located in Lexington County and is just a short drive to the capital city of Columbia.  A popular vacation destination, Lake Murray offers all of the amenities of lake living. Exit Real Estate Consultants is your local expert in all your Real Estate needs in Lake Murray South Carolina. Our website offers access to the most comprehensive MLS Listing Service with free access and advanced tools for Real Estate Buyers and Sellers - put us to work for you; our service will impress you! (803) 358-0888.